All the Christian Orthodox books below have been produced by Lazarica Press. If you wish to purchase any of these items please contact Father Nenad.
Homilies
By Bishop Nikolai Velimirović
Translated by Mother Maria
The Homilies are sermons on the Gospel for every Sunday in the year and certain great feasts. They are published in two volumes in hardback (library edition).
Volume 1. The Annunciation and from Christmas to Pentecost
Volume 2. The Sundays after Pentecost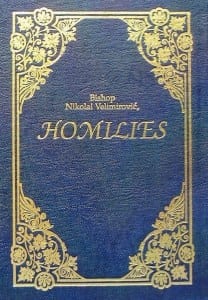 The Orthodox Church and Ecumenism
By Archimandrite Justin Popović
Translated by Benjamin Stanley and Mother Maria
In two parts: an exposition of the theology of the Incarnation followed by an examination of western theology in the light of Orthodox teaching (soft cover).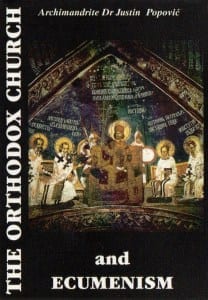 The Prologue from Ochrid
By Bishop Nikolai Velimirović
Translated by Mother Maria
This is the original English translation and stands on its own as the definitive text.
The Prologue comprises of Lives of the Saints, points for consideration and a short homily for every day in the year.
Published in four volumes, library edition (hardback).
Volume 1. January – March
Volume 2. April – June
Volume 3. July – September
Volume 4. October – December
George Bell and Nikolai Velimirović – The Story of a Friendship
By Dr Muriel Heppell
The relationship between two great men in their different traditions, related mainly through their correspondence (soft cover).